At long last, here is my sixth My Little Pony puzzle, dedicated to Equestria's newest princess. While not absolutely the last, I'm proud of accomplishing my original goal of one puzzle for each of the Mane Six (before the end of the show :p ).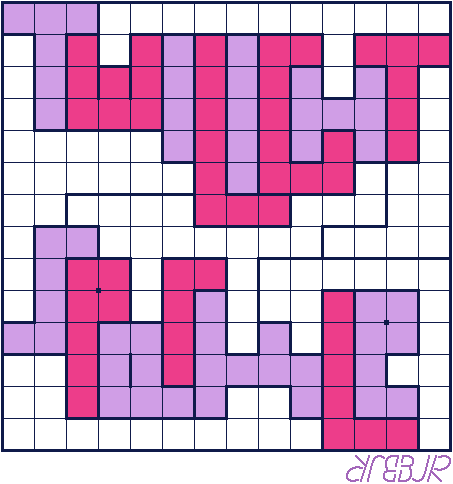 This is a
Star Battle
variant. There are fifteen colored letter regions and six white regions. The internal borders in the W, P, A, and E are purely to emphasize the letters.
Rules:
Forty-two squares of the grid each contain one star, and the rest are empty. No two star squares share a corner or a side. Locate these stars, given that there are two per region, and three per row and column.
So Star Battle is a pretty obvious choice, since Twilight's cutie mark is a group of stars. But why 21 regions in a 14*14 square? Well, I hit upon using 42 stars because in the episode "Fall Weather Friends," some of the cast participated in a race called the Running of the Leaves, and Twilight's racer number was 42. And beyond that number having a prominent place in geek culture, it's also the number of points on the stars in her mark (two large overlapping stars, five smaller stars surrounding them, each with six points).
Then with fifteen regions forming letters, 21 total regions was obvious. And I've already seen several small-region SBs, so using a grid smaller than 21*21 wasn't a tortuous decision.
Next week, I hope to have a doozy of a puzzle ready for you. Maybe I'll even make one for Spike. ^_^