I seem to have a tiny dilemma here. I actually had this puzzle written last week, but Tuesdays are now host to "Agents of SHIELD" viewing parties. And sure, I should post these in the morning, but I'm not generally a morning person. So should I move my weekly (ha) puzzle to another day of the week?
Anyway, here's a sudoku variant called X-Sums Sudoku, which I first saw on Para's site (
http://puzzleparasite.blogspot.com/
). Each outside clue equals the sum of the first X digits in its line starting from the edge where the clue is located, where X equals the nearest such digit.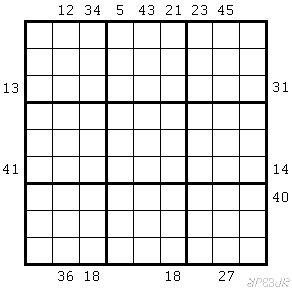 (Not to be confused with N-Sums sudoku, where N is the
last
of the N digits to be added. That, incidentally, means not all 36 spots around the grid can have a clue.)